Name: Ramakrishna Chiniarlapalla
Designation: Chief Executive and Founder
Company: Spoors Technology Solutions India Private Limited


Education: BE, BLDEA
Summary: Popularly known as Ram, he is responsible for executing the business strategy and spearheading the overall performance and growth of the organization. Being an experienced technology entrepreneur and developer, Ram has steered Spoors to make it India's premier field force productivity enhancement applications development company. Ram and his co-founder have been instrumental in developing the flagship product – EFFORT, with the intent to provide customers easy, fast and a scalable application to manage their field force.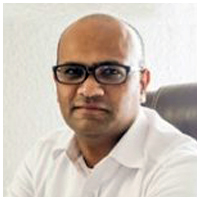 Puts you out of comfort zone every day and a big test for perseverance!! -Ramakrishna Chiniarlapalla